After much speculation and reporting over the past week, the PGA Tour on Thursday morning released an updated schedule for the remainder of the 2019-2020 season, as well as the fall portion of the 2020-2021 schedule. For those that have not seen it yet, here is how it looks: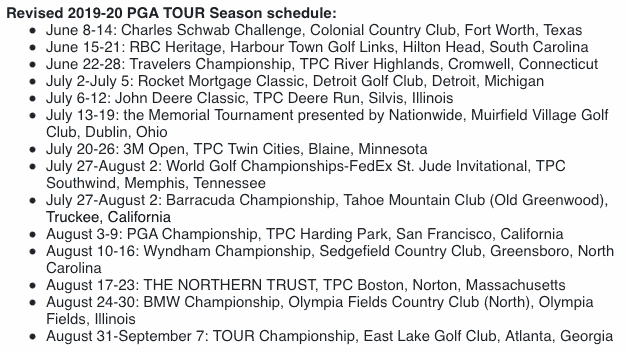 And here is how the fall portion of the 2020-2021 schedule is expected to play out: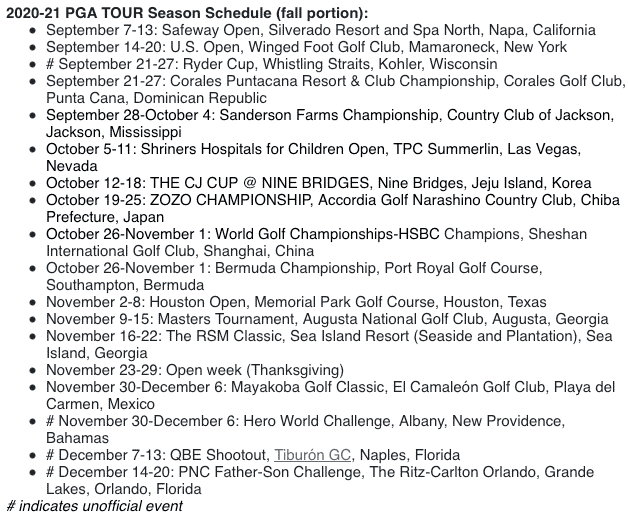 There is a lot to digest here, so let's take a look at some of the more noteworthy things to come out of the announcement.
RIP Greenbrier
One tournament you might notice that is absent from the new schedule is the Greenbrier. That's because it has been cancelled and removed from the Tour schedule for good. The Tour announced on Thursday that the two sides had agreed to end their relationship prior to the contract expiring. The tournament had been a staple on Tour for 10 years.
"We are very grateful to Governor Jim Justice and his Greenbrier Resort for a highly successful 10 years of partnership with the PGA TOUR," said Pazder. "Governor Justice's vision and leadership helped shine a light on the men and women that serve our country through the military and first responder programs he implemented through the tournament, and The Greenbrier Resort was an incredibly unique and world-class venue that our players will always remember and cherish."
Majors, Majors, and more Majors
The way the new schedule is configured, the 2019-2020 PGA Tour season will have only 1 major, the PGA Championship. Meanwhile, the 2020-2021 season will have 6 majors including 2 U.S. Opens and 2 Masters Tournaments. So, what are we going to call it when someone wins both U.S. Opens or both Masters during the 2020-2021 season? I like this name:
The Pandemic Slam

— Scott Michaux (@ScottMichaux) April 16, 2020
Let's start getting some merchandise made up for when Brooks ultimately pulls this off.
No More "Invitationals" in 2020
The three invitational tournaments on the updated schedule will lose there "invitational" status this year from a field size standpoint to help increase the number of playing opportunities. The Charles Schwab Challenge (120 players), RBC Heritage (132 players) and the Memorial Tournament (120 players), will see their respective field sizes increase to 144 for this year only.
No Fans For At Least the First Few Weeks
Included in the schedule release was the announcement that for at least the first four events, no fans will be allowed at the events. That means that the Charles Schwab, RBC Heritage, Travelers, and Rocket Mortgage will all be played on empty golf courses with only essential personnel present. As of right now the first tournament that will have fans will be the John Deere Classic July 9-12.