Anthony Kim has been one of the strangest, yet most compelling stories in all of golf. He was the hottest thing in golf in the mid 2000s and was even used by Nike in their ads while Tiger was gone rehabbing his image after his infidelity scandal in 2009.
Then, seemingly overnight, he simply just disappeared.
While there has been the occasional AK sighting here and there over the years, the whereabouts and activities of the man have largely been a mystery.
Well, there was an AK sighting in West Hollywood over the weekend, and thanks to Golf.com's Dylan Dethier and friend of his Benjamin Bujnowski, we know a little bit of what Kim has been up to lately.
But Kim surfaced again last week in West Hollywood, Calif., where he ran into friend of GOLF.com Benjamin Bujnowski on the street. Bujnowski was in town on vacation with his family and had just finished breakfast at Toast in West Hollywood.

"As we're leaving, someone looking like AK walks towards us with his girlfriend walking their dog," Bujnowski told GOLF.com in a message. "I immediately notice the left arm sleeve tat, with the Labrador outside his elbow. I turn to my wife and daughter and go, 'Holy smokes, that's Anthony Kim!'"
Bujnowski even got a pic with the man himself and posted it on his Instagram for proof.
As for Kim's golf game? Well, he said it is non-existent.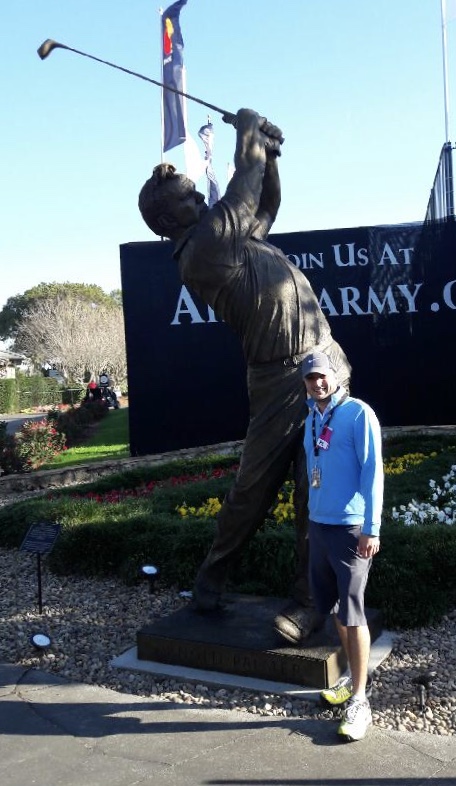 Dan is the co-founder of The Stiff Shaft and the website's Senior Writer. A South Florida native, Dan has been covering golf since 2013 and playing it his entire life. He is still waiting for his first hole-in-one.