No, the headline isn't deceiving. Dustin Johnson really did have a Sunday for the history books, just not the one he was looking for.
Heading into this week, DJ was pretty money when it came to converting the 54-hole lead. Before Sunday, he had held at least a share of the 54-hole lead 16 times, converting on it 8 times. That's a 50% success rate. In addition, the 8 times that he had not converted, he never finished outside the top 10.
Then Sunday happened.
Like he had 16 times in the past, DJ entered the final round of the RBC Heritage with the lead. A shaky back nine on Sunday resulted in his lead slipping to just 1 shot, however he still had the lead.
Through nine holes, everything still seemed OK. He had a birdie and a bogey and made the turn at 10-under, exactly where he started the day. The back nine was something that will haunt your dreams.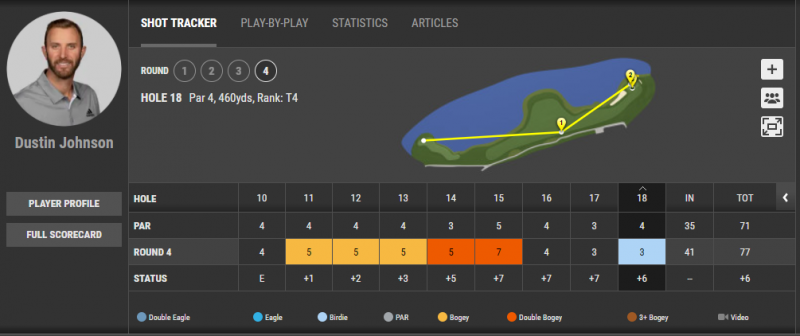 Don't let that birdie on 18 fool you, his back nine was bad and got out of hand in a hurry. As you can see, DJ played holes 11-15 in a whopping 7-over par. While the birdie at 18 took a little sting out of the day, the end results were truly historic.
Johnson ended up going from the lead to a tie for 28 by the time C.T. Pan was celebrating with the Tartan Jacket. It was the first time in Johnson's career that he didn't finish at least in the top 10 when entering the final round with the lead.
We know that DJ isn't much of an over thinker, certainly not the way that someone like Bryson DeChambeau is. Hopefully, he can push this round out of his head quickly because it was a historically bad one.