This is a guest post by Jeff Nickerson.
***
Hello Friends (Jim Nantz voice) On July 20th, 2018 … my Dad told me that we won the Masters ticket lottery and would get to go to the Wednesday practice round/ Par 3 contest. I couldn't believe it and I knew it would be a day neither of us would ever forget. Well, today was the day and here's a rundown of how it went.
6:45 a.m.: My Dad & I arrive at Augusta National. Everything at Augusta (I'm sure you have heard) is perfect. Well, the parking is no different. It goes so smoothly that you think something is wrong. "Wait I don't have to wait in traffic for 40 minutes?" Or "You're telling me I don't have to give a guy with a neck tattoo 50 bucks to park 5 miles away?" Weird … Anyway, Parking was flawless.
7:00: As we walk through the gates you notice how friendly everyone is. There isn't one person in Masters gear or a security uniform who isn't telling you to "enjoy the Masters" or "Have a great day!" It's well-oiled machine and we haven't even seen the course.
7:15: If you don't know me, I've been studying "how to have the perfect day at the Masters" for months now. I knew exactly how we needed to start this day:
Stop 1 – Practice range for a few minutes … DJ, Rickie, Snedeker, Day, Phil, Rahm, Stenson … hot start.
Stop 2 – The Golf Shop – helpful tip … Augusta will hold everything you buy, like a night club coat check, until you're ready to leave (for no charge!), also you can't go out onto the course until 8 a.m. anyway. The main store has so many options I felt like a Mom doing Christmas shopping on Black Friday. I needed and wanted everything … and eventually bought everything. Hats, shirts, balls, towels. I couldn't help myself neither could my Dad … I am now sponsored by The Masters.
Stop 3 – After dropping off our new merchandise with the VIP coat check, we hit our first concessions. Pimento Cheese and Egg Salad sandwiches? Don't mind if I do. Three bucks total for both. After burning money on new gear this was a nice bounce back birdie for the boys.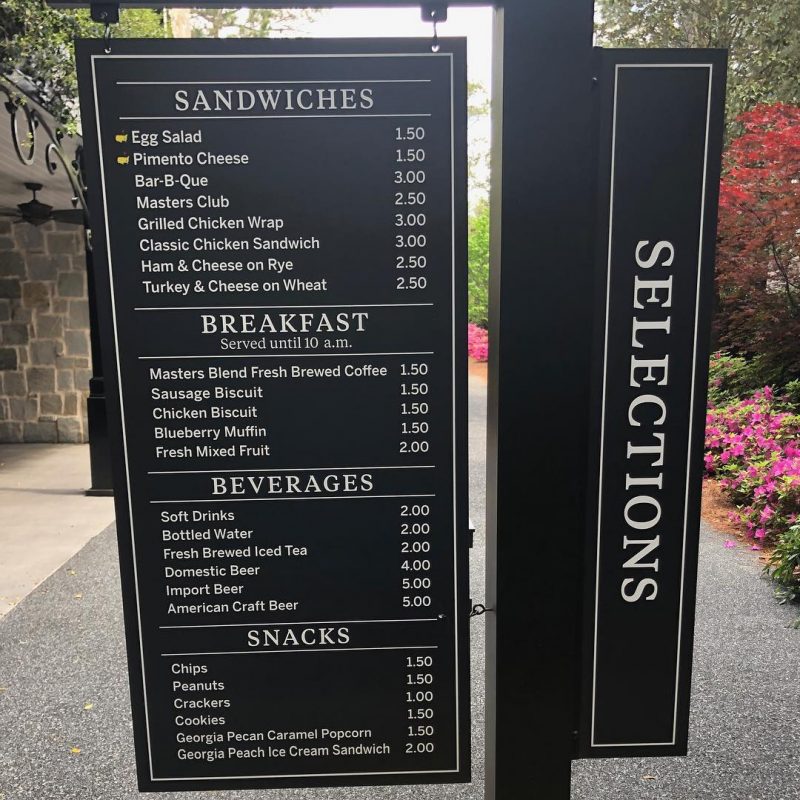 8:30: We have hit the course. Our plan today is to walk all 18 in order, while stopping to watch different practice groups we are into or watching how different guys play a certain hole. Then hit the Par 3 contest. This is a great plan unless a "Great White Buffalo" is spotted. More on that later.
We start by walking down the first hole. Rafael Cabrera Bello and Emiliano Grillo have already hit their drives. Bello was sitting pretty in the fairway while Grillo was in a bunker. This is where as a TV viewer, you miss certain things. Grillo stepped down in the bunker and disappeared. Everything is different in person at Augusta. Every bunker is deeper, every fairway is an uneven and awkward stance and the greens look like an earthquake took place and the grounds crew just grew grass over it without fixing the damage. After seeing their approach shots, we left our boys on one and walked both the second and third, which felt like these guys can find birdies on if the weather is perfect like it was today.
9:10: We stopped at the fourth hole to watch Jason Day and amateur Alvaro Ortiz. Play the 240-yard par-3. Standing at the tee box, I knew I had nothing in my bag that is sticking a ball on that green. I guess that's why I had egg salad on my face while Jason Day is hitting it to three feet. We followed them to the green to watch how these guys will putt on this roller coaster of a surface. Day's Caddie would throw markers around the green for Day to hit at. I am not kidding, he put it within inches from anywhere. PS, from everyone I saw today, Day looked the most locked in. As long as he doesn't sneeze and blow out his back that Green Jacket could be his.
After watching the Master class in putting (see what I did there?). We walked five and six and then veered off our plan a bit to watch players coming from the back nine skip balls across water on the 16th. There is nothing that gets a super-rich person's blood flowing like a ball skipping across water. It was like meth for everyone in their Masters chairs.
1030: We walked up seven and caught up with Day again to watch him smash a drive on the eighth. Out of nowhere came last year's Masters champion Patrick Reed, alone, not interested in taking to anyone. He jumped behind this group and was now working on his drive. I have nothing else to add on Reed other than his drives were at least 30 yards less than Day's.
11:05: After my Dad's fourth bathroom break – he's old – we were going to continue our tour until … 'Great White Buffalo' … I looked at the board with all of the tee times they have around the course and a new name was added to the front nine. 10:40 a.m. Kisner, Thomas, Couples and … TIGER WOODS. Plan over. This is my guy, my Dad's guy. This is a must. I instantly start to freak out. "O.k. Dad, four guys, they are all taking their time. They can't be … oh my God, there he is. It was like the crowd parted when I looked over to the second green.
Tiger was my 'Great White Buffalo' and I yelled "There he is!" to my dad who was standing beside me. If this was American Pie, I am Jim and Big Cat is Nadia. Plan gone. We are now on 'Tiger watch.' I'm not going to lie the next three holes are a blur. I like all three guys he played with a lot, but if Kisner switched to a Happy Gilmore Swing and Justin Thomas and Freddy were naked I wouldn't have noticed. Tiger is my dude and my dude is a foot away. We followed him to the fourth hole. Watched him play that terrible par-3 and then it was time to say good bye. I don't think he said it back but let's act like he did.
12:30: We continued our tour again. Walked the ninth and stopped at 18, which is right beside nine, to watch Phil Mickelson, John Rahm and Keith Mitchell play a closest to the market putting game that had to have at least three grand on the line. Which Rahm ending up winning and hammering his fist into his chest Rambo style as a joke, we think, but who knows how much lefty owes.
Our next stop was Amen Corner and our second concession fill up – BBQ pulled pork sandwich, Georgia Peach ice cream sandwich and beer? Don't mind if I do. We went into the grandstands behind the 12th. If you are going to the actual tournament and want to set up shop, it's either at 11-12 or on 16 where you can see the 15th green too. During our lunch, Thorburn Oleson and Justin Rose went through. Then next up was Jordan Spieth and Patrick Cantlay. Knowing this is the hole Spieth chunked it into the water and lost the green jacket made it more interesting to watch him play the hole. He flew the green and put it in the bunker.
After Spieth was done we continued our tour of the course. Deciding no more stopping because it was par-3 contest time. Every hole on the back looks like a battle. No shot is easy. What a course. Also, while walking around you find out a lot of people here are rolling in money. I heard a guy say. "Ya, my daughter's wedding was great. Perfect ceremony and dinner and then at midnight I paid for Pitbull to perform until 2 a.m." I don't think he cares about how much he spent at the Golf Store.
2:30: We walked around the par-3 course, which was jammed, finally deciding to bunker down at the sixth tee box. Second row, dead center behind the tee with a perfect view. There were a lot of players having fun with their kids, wives or girlfriends, but nothing was as cool as seeing Jack Nicklaus, Gary Player and Ben Crenshaw coming towards you.
It was cool for me, but it was extra special for my Dad. He couldn't believe it and that was awesome to see. Of course, Jack throws a dart to two feet like it was nothing. The crowd exploded. Tap in birdie for the Golden Bear. Following the legends was a pretty good group in Spieth, Fowler and Thomas. These guys just get it. Good with the crowd, always playing in these things, and actually looking like they are having a good time. None of them birdied the sixth. Jack wins one-up. We watched both of those groups finish on nine as well and then decided to head back to the practice area.
5:00: Dad and I hit the concessions one more time – two chicken sandwiches, two BBQ sandwiches and two beers – and took a seat in the practice range stands. Only three guys were on the range. Snedeker, who was working with his swing coach. Kuchar, who was trying to get his caddie to play a game where each time he chipped it within 10 feet he took 10 grand off his pay … just kidding … and Bryson, who was doing his mad scientist act with his team.
It was a good time to reflect on the day with my Dad. We both couldn't believe how great it was. Everything is perfect. It's a must for golf fans to do this day once or thirty times like I plan to. Also, to do it with my Dad made it even better. It was special, and I'll never forget it. I'd like to end this with the most important thing I can write.
Masters Food Power Rankings:
1. Georgia Peach Ice Cream Sandwich
2. BBQ Pulled Pork Sandwich
3. Egg Salad Sandwich
4. Chicken Sandwich
5. Pimento Cheese Sandwich
You're welcome.
Jeff 'The Freebird' Nickerson