It's time for the WGC-Dell Match Play and a return to Austin, Texas and Austin Country Club.
Don't forget to join our bracket before the tournament gets started on Wednesday!
[maxbutton id="1″ ]
If you don't know how the WGC-Dell Match Play works, here's a quick little summary.
The top 16 players (Group A) are seeded based on their Official World Golf Ranking. The other three players in each group are drawn randomly using ping pong palls. Pool B consists of players ranked 17-32 in the world rankings. Pool C features players 33-48 and Pool D is made up of players ranked 49-64.
The four-player groups will compete in round-robin matches Wednesday through Friday. The player with the best record in each group will then advance to the Round of 16 for single-elimination match play, which begins Saturday. The quarterfinals take place Saturday afternoon and the semifinals and final rounds are set for Sunday.
In honor of Match Play week, let's remember that time that The Most Interesting Man in Golf, Miguel Angel Jimenez and Keegan Bradley almost came to blows at the 2015 edition of this event:
Here are our overall records.
Here are our brackets for this week:
I really enjoy this event. I think it is unique and always entertaining and it's something different than the weekly PGA Tour grind that we're all accustom to.
You can see my bracket above. I picked a lot of chalk with DJ, Xander, JT, Tiger, Rory, Rose, Casey, Molinari, Bryson, and Koepka because I think those guys are playing really well right now heading into the Masters. Will they all advance? Probably not, but that's why I threw in a couple of upsets. Furyk is playing well, Poulter is a beast at these individual events, and Oosthuizen played well last week at the Valspar, so I gave those guys a look this week.
I ended up with DJ and Molinari in the finals. DJ is clearly gearing up for a run at a green jacket with solid performances over the last two events (T5 at the Players, T6 at the Valspar), and he currently ranks second in strokes gained total behind only Rory, who I have playing in the third place consolation match against Brooks.
I picked Molinari because it feels like after his win at The Open last year, he's found a new gear. He's already won once this season at the Arnold Palmer Invitational and although he isn't near the top 10 in strokes gained in any category, he's one of the best ball strikers on Tour.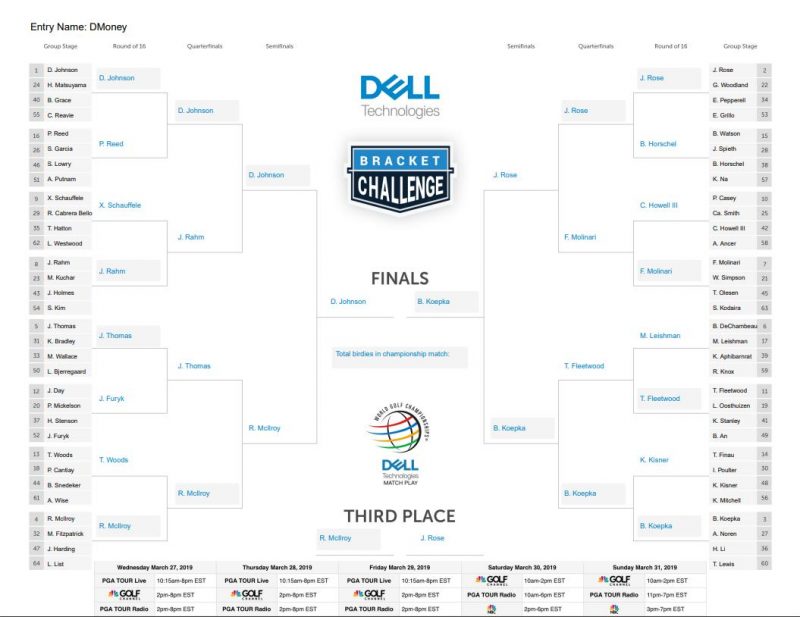 I sure hope I have some better early round luck with this bracket then I did with my NCAA tournament bracket.
I digress though. This bracket is extra juicy this year with so many guys coming into this event in top form. While anything can happen in match play, my god are there some amazing potential match ups in the knockout phase if the chips fall right. Sure, I went mostly chalk but is anyone really going to complain if any of the matches I have picked for the knockout rounds actually happen? I don't think so.
In the end I have Brooks winning the whole thing but I could easily see any of my Final Four taking home the trophy. No matter what happens, enjoy the madness everyone!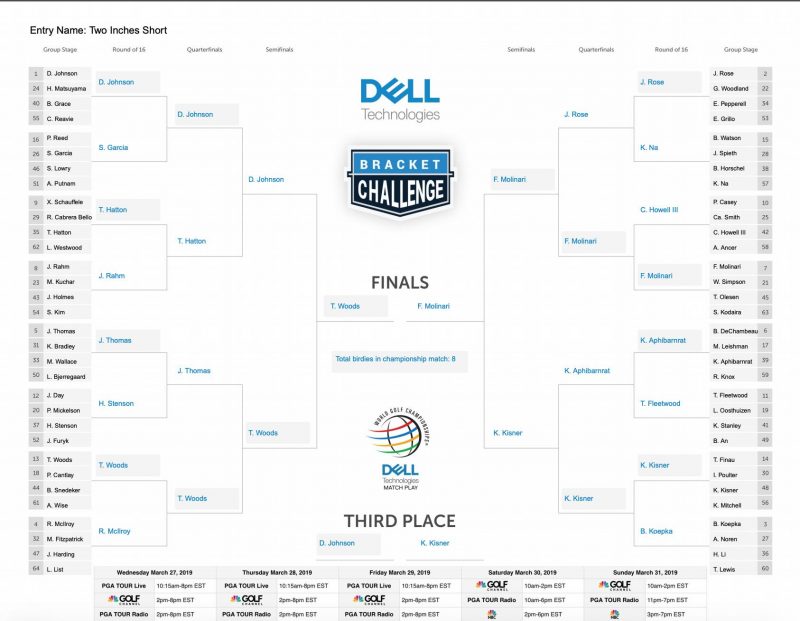 Hello Match play. Tiger Woods is going to 9&8 his way to his 19th WGC title.
Sure you may be thinking "that's a lot of golf for a 43-year-old man who had fusion back surgery a year ago 2 weeks before the Masters" and you may be right.
What you don't forget is how to crush opponents' skulls in matchplay. All he's really got to do is get out of a group that has zero combined WGC wins. From there he mows down Rory, JT, and DJ. No big deal.
Whoever he faces in the finals doesn't stand a chance. Wishful thinking? Probably. But if …. IF it does happen, don't say I never told you so.