After a fun month in the Sunshine State, the Tour heads to Tampa this week for the final stop of the Florida Swing, the Valspar Championship. Since it's Valspar week, let us all reflect on the time that Justin Thomas almost killed a man:
In honor of this week's Valspar, let us all remember the time that JT almost killed someone at the event. #NeverForget pic.twitter.com/aC6Hq22F4P

— Dan Hauser (@DanHauserGolf) March 19, 2019
I'm not sure what is more impressive here, the fact that the guy lived to tell the tale or that JT still managed to make a birdie on the hole.
Here are our overall records.
Here is who we are going with this week:
I've gotta go with the odds, and the odds say that Dustin Johnson is the man to pick this week.
Johnson hasn't played at Copperhead since 2010, but is fresh off a top five finish at the Players Championship and has two wins in his last seven events (Saudi International, WGC – Mexico Championship).
Why not add another one this week while he gears up for the Masters, where he will be staying in a ONE-STORY house to avoid any ridiculous mishaps like … falling down the stairs.
DJ is second in strokes gained total behind only Rory McIlroy. He was also the only player to card four rounds under 70 at the Players last week. It's clear, even though he didn't win, that he is playing well.
I have gone out on a limb several times this year and have paid the price for it. Last week with Phil missing the cut was no exception. So, have I learned my lesson and am going to go back to picking more "traditional" guys? I have not. That's why I present to you my pick for the week…Jim Furyk.
It's been well documented that Furyk has struggled greatly over the past few seasons, but he had the weight of the PGA of America and every American golf fan weighing on his shoulders being the Ryder Cup Captain. He even admitted the strain that it put on his golf game. He was barely able to practice and it showed. Now though, he's back to focusing on just golf and when he can focus on just golf he is one of the better golfers in the game, awkward swing and all.
Need proof? Well, since his missed cut at the RSM Classic back in November, he is a collective 30-under par over in his next four tournaments. In that span he has finished outside the top 15 once (T37 at the Genesis Open) and was a couple brilliant Rory shots down the stretch from winning the PLAYERS last week. Clearly he has re-discovered his form and it's only a matter of time until he cashes in. I think that happens this week.
Love him or hate him, we are going with Patrick Reed to win the Valspar Championship this week at Innisbrook. Since we haven't made a correct pick yet based on some of our favorite players, why not try one of our least favorite on Tour.
Reed's love of the Snake Pit shouldn't be anything new given his personality. In his last 4 starts here, he's got two runner-ups and a T7 with a 69.63 scoring average. Nice.
Reed's hit the ball OK this season (45th overall strokes gained), but his short game's helped save him (18th strokes gained around the green). In fact his first in scrambling from the fringe (15/15)!
Fresh a decent week besides a final round 78 at the Players, Reed is poised to slither his way up the leaderboard and snatch the trophy come Sunday.
Bridget Whelan (

@

BridgetKWhelan)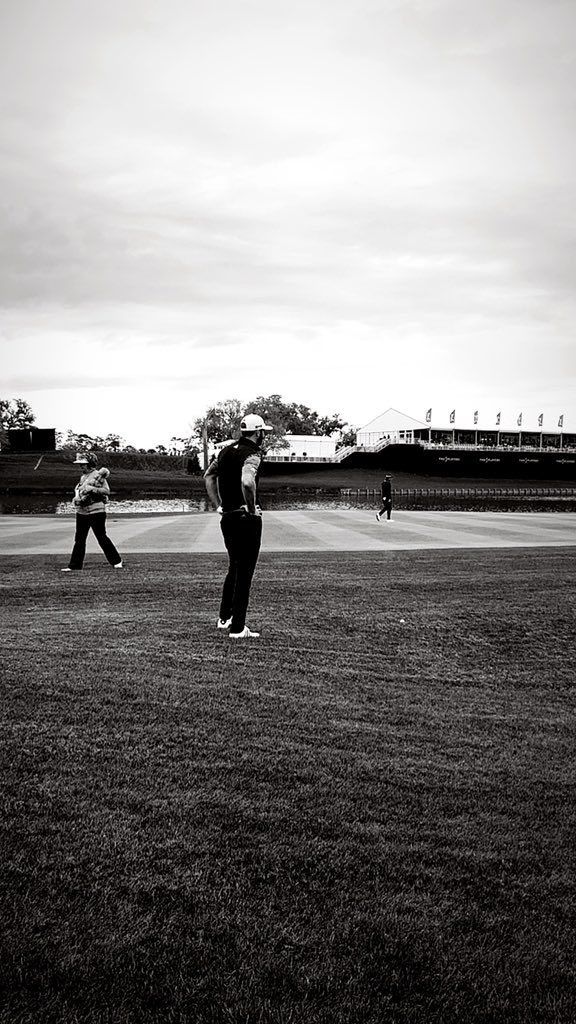 The entire golf world enjoys a Rory McIlroy win and this one you could say was a long time coming. The last nine times he's been in a final group, in a final round, he's failed to win. Watching him champion this weekend in the Players after the mediocre Saturday he kept together, was a feel-good moment for golf. The win is number 15 of his TOUR career. It joined him with Tiger Woods as the only golfers to win a PLAYERS, the FedExCup, a World Golf Championship and multiple majors. A well-deserved and historic win. Congrats, Rory!
I luckily was able to attend the Players on Saturday this year and there was only one guy who literally took my breath away. Unfortunately, he happens to be the current World No. 1, i.e. an automatic favorite for everything and my pick for this week, Dustin Johnson.
DJ finished tied for fifth in the Players. That might not sound too impressive but he did so with four rounds in the 60s. Intrigued yet? DJ is the first player to record all four rounds in the 60s at TPC Sawgrass since Steve Elkington in 1997! It's DJ's first time back at Copperhead since 2010 but his 69, 68, 69, 69 this past weekend made me a true believer in all things that the real-life Superman of golf can do!