We've come to a point in the careers of Phil Mickelson and Tiger Woods where the two actually get along and they apparently get along quite well.
There's plenty of pictures of the two laughing it up during practice rounds while Phil looks like he's dressed for a board meeting …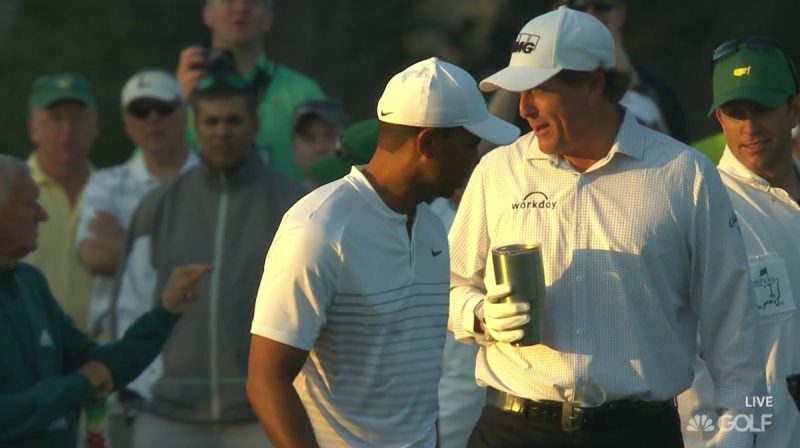 … and the two have gotten along during the last Ryder Cup and Presidents Cup.
But now, NOW the stakes have changed.
There was once a plan for the two legends to face off in a match-play event that likely would have brought in TV ratings just as high as the final round of most PGA Tour events (excluding majors … maybe). That event never took place and we were all sad.
I'm here to tell you that negotiations for that event have picked back up and there's a major TV network involved now.
"We're working on a different date," Mickelson said on Thursday. "I thought it was done for the 3rd but obviously it wasn't."
While Mickelson commented, Woods' camp declined to comment because … well, it's Tiger and keeping just a little bit of mystery makes it that much more interesting. (He's the opposite of Phil.)
Apparently the idea sparked back up in April at the Masters when the two played their practice round together (pictured above). Then, at the Players Championship, the two were paired together on Thursday and Friday and the crowds were massive.
Of course, Phil knows what's up and had this to say at the Players …
"The excitement that's been going on around here, it gets me thinking: Why don't we just bypass all the ancillary stuff of a tournament and just go head-to-head and just have kind of a high-stakes, winner-take-all match. Now, I don't know if he wants a piece of me, but I just think it would be something that would be really fun for us to do, and I think there would be a lot of interest in it if we just went straight to the final round."
By then, Woods was feeling a little better about his return and even played along…
"I'm definitely not against that. We'll play for whatever makes him uncomfortable."
The stakes will apparently be somewhere around $10 million dollars, which is chump change for both but is obviously high enough to make them actually compete for the prize.
"It's a ridiculous amount of money," Mickelson says. "No matter how much money you have, this amount will take both of us out of our comfort zone."
Still, Phil knows he can only talk so much smack towards Tiger because honestly, Tiger holds all the high cards.
"The tough thing is that he has the trump card: his career record. OK?" Mickelson says. "Whether it's 14 majors, 79 wins, however many players of the year awards, FedEx Cups, the whole deal. He owns all the trump cards. So I have to be very careful and strategic in my smack talk, because if I lay something down, in comes a trump card, you know, and then shuts me right up."
If this does happen, it will likely be the match of the century because these two are the biggest names in the sport right now and two of the biggest names to ever play the game.
[Via Golf.com]