When it comes to the world of golf, one of the worst things you can do is either cheat or be accused of cheating. Cheating is THE cardinal sin in golf, so stories of cheating, particularly in professional events are few and far between. On Sunday though, during the final round of the Quicken Loans National, we were made aware of an instance of accused cheating.
It all started on the par-5 10th when Sung Kang hit his second shot into a hazard. Kang thought the ball crossed the hazard, allowing him to drop closer to the hole. His playing partner, Joel Dahmen, had a different thought though. Dahmen said it didn't cross the hazard. Kang, however, was standing by his decision. After the discussion and subsequent ruling that lasted more than 20 minutes and saw another group play through, it was determined that Kang was right.
However, the situation didn't end there. After the round, Dahmen went to Twitter to "set the record straight" on Kang's cheating accusation:
Kang cheated. He took a bad drop from a hazard. I argued until I was blue. I lost.

— Joel Dahmen (@Joel_Dahmen) July 2, 2018
Afer being asked for clarification, he went on to describe the situation:
It was a typical dispute about where or if it crossed the hazzard. It clearly did not cross the hazzard. We went back and forth for 25 minutes and he ended up dropping closer to the green.

— Joel Dahmen (@Joel_Dahmen) July 2, 2018
When all was said and done, Kang managed to get up and down for par and card a bogey-free 64. He finished third which was enough to qualify him for the Open Championship. Dahmen shot a 71 and finished in a tie for 73rd.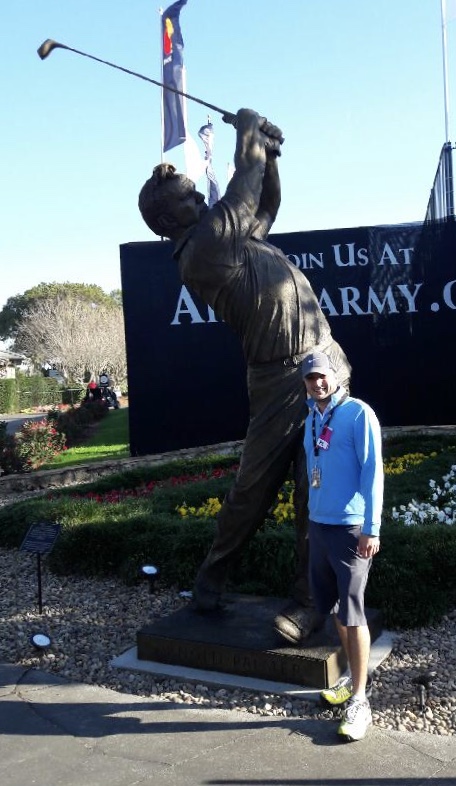 Dan is the co-founder of The Stiff Shaft and the website's Senior Writer. A South Florida native, Dan has been covering golf since 2013 and playing it his entire life. He is still waiting for his first hole-in-one.